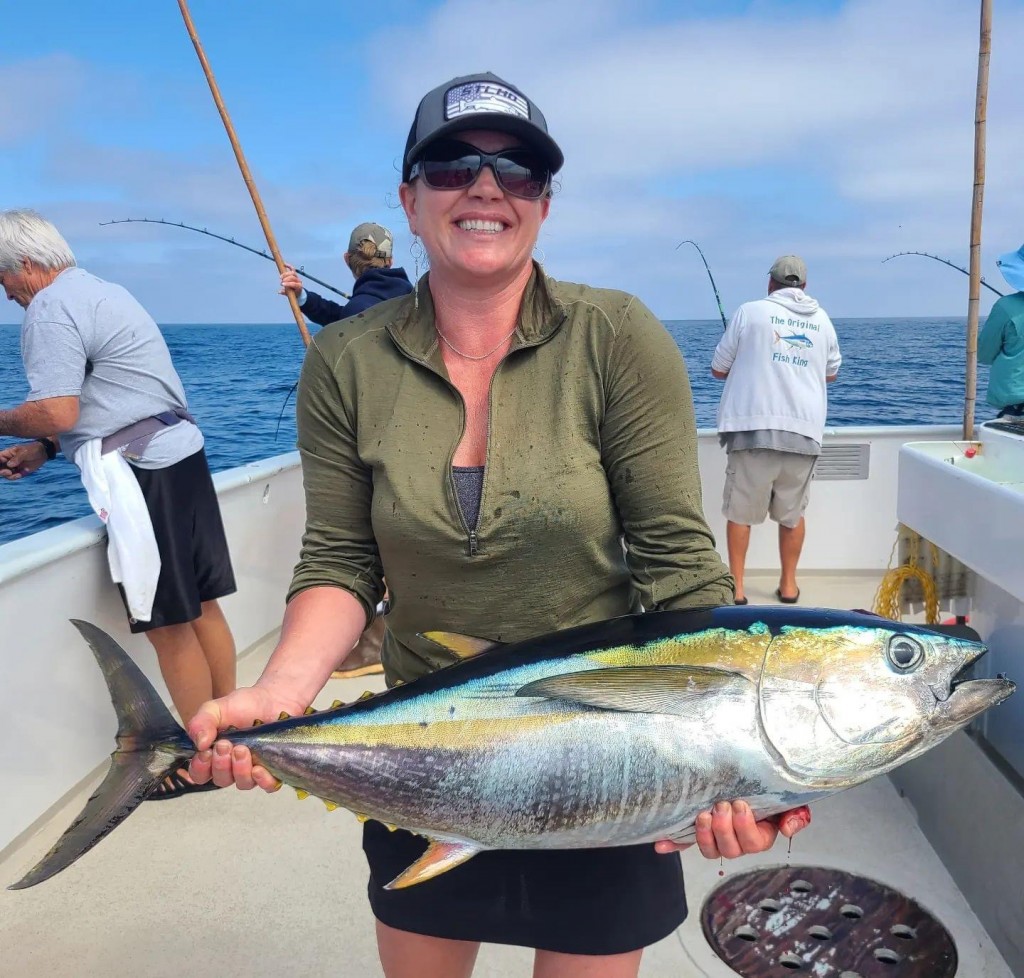 Yellowfin are the new sport boat targets. This one came back to H&M Landing aboard the Spirit of Adventure.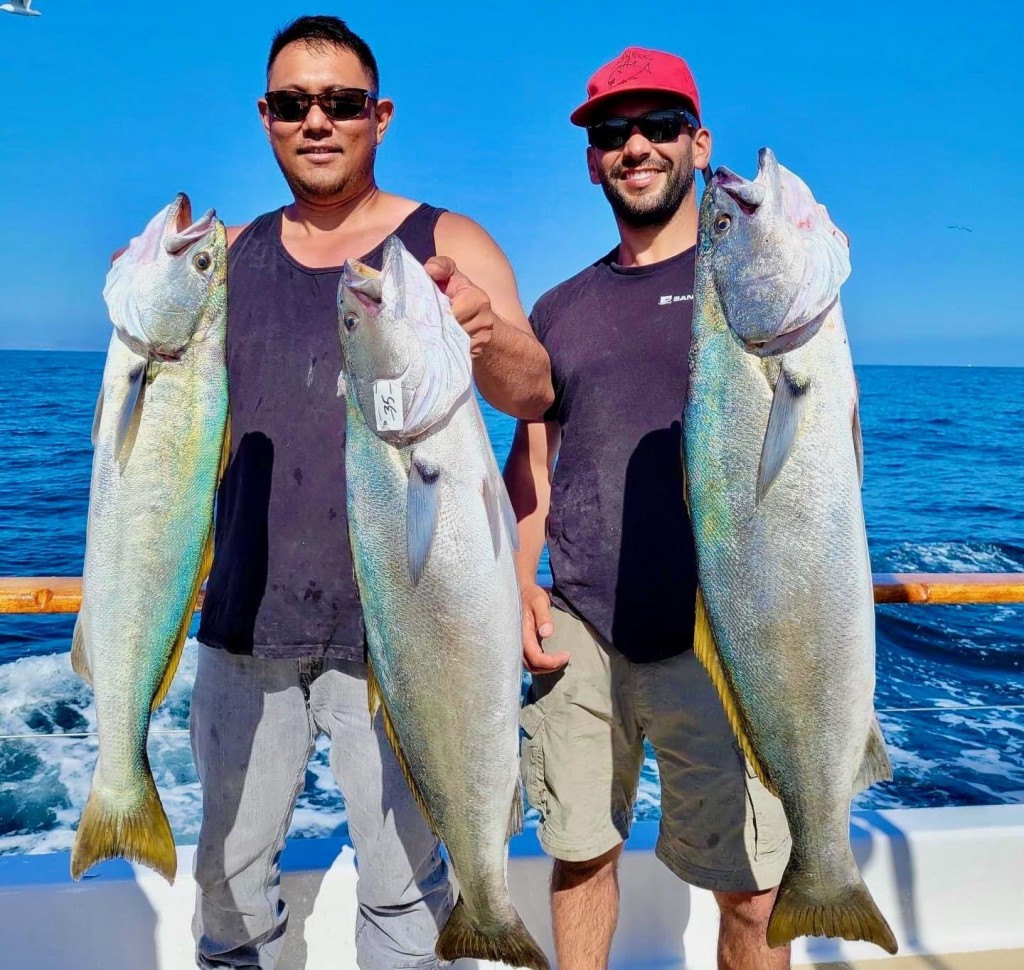 The San Diego got into two days of white seabags at the Coronados. None today.
975BITE REPORT  for Thursday, June 30th, 9 p.m.
Bluefin, yellowfin now in the mix, plus dorado and yellows as water warms up
The report:
For the Private boat guys, the game for bluefin is just turning in their favor. Close in, and hitting on the troll and poppers. Run and gun. Lots of options now. It's been good, as the Mad Mac high speed trolling is turning up fish, as are throwing knife jigs and poppers at foamers. The fish have solidly moved into U.S. waters.
Remember that great local bite this time of year last year? Well, Oceanside is still the place to be for close-in fish, about 15 miles off the Domes. Nothing changed there. A mix of fish, 80 to 160 pounds reported. Be aware of bigger fish when throwing poppers. People are getting spooled. The bite is now spread out, from down south at the usual Mex high spots and ridges, to the lower 9, and along the ride, 15 to 25 miles out from the coast. Fish were reported being seen foaming at the 43 and San Clemente Canyon but they have been picky. The inside (near the coast within 15 miles) fish foamers are the ones to go after. Get a few fish, then look for shearwaters and other birds and you'll find good marks on the edge of the fleet with a kite/balloon/flying fish for a shot at bigger grade.
The bluefin bite is still pretty good for those sportboats from SD Landings that have fewer passengers and more time and are committed. It's been slow, but it will change. It's just transition time, following the same pattern as last year.  There's been some sportboat skunks, and that's expensive disappointment  (and fishing reality)  for a 1 ½-day trip.   ….so, boats are looking for  paddies with the jigs out and locating the first wave of yellowfin tuna, then stopping for yellows and dorado under paddies to keep the rods bent.
H&M Landing posted today a Legend 1 ½-day count for 21 people for a great mix of fish. 92 yellows and  19 yellowfin! The Relentless today posted 40 yellows and 4 dorado on a  2-day run.
Over at Fisherman's, the Liberty got 7 yellows and 2 dorado on a full day , the Pegasus 1 ½-day had 95 yellows and on the hunt still for bluefin and yellowfin. The Fortune took a group of 15 on a charter and got limits of bluefin, and the Pacific Queen shows the yellowfin are a viable target with warming waters, with 16 yellowfin 20 to 25 pounds and 10 yellows on its 1.5 dayer.
Best yellowfin count? The Searcher yesterday called in 42 yellowfin, 48 yellows and 1 dorado for their 2 ½ day. The yellowfin are dorado are moving up, great news since bluefin are a tougher target. It was a great partyboat run for four months. It might still continue but the skiffs are going to rule the seas for a while as captains are  targeting this wave of  yellowfin, paddy yellows and dorado.
Seaforth Landing today said the Pacifica called in early this morning with limits of yellowtail and 2 dorado for their 28 anglers! Captain Andrew stated that they would be spending the rest of their time on the hunt for some bluefin. The Pacifica will be back early tomorrow morning so be on the lookout for their final count.
As for the Corodados, bass and rockfish and maybe some yellows are in the mix, and the white seabass for the San Diego out of Seaforth didn't get the WSB today like yesterday and Tuesday, but on their full-day run today they got 2 yellows, 28 barries, 62 calicos, 3 lings and assorted rockfish. God news, the San Diego just extended their Coronados runs a week more to the 10thth of July