Share your Catch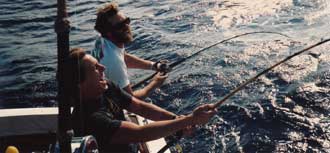 We want to hear about your fishing trip and see your catch. Send us an email of where you went, what bait/lures worked, sea conditions and of course, the fish you caught!
Email us at Bob976bite@aol.com to send us your report and/or pictures now (please, .gif & .jpg formats only)! You can also telephone in your reports to:
(619) 226-8218
We have the scoop!
976-BITE specializes in providing the latest Southern California offshore fish reports as well as San Diego County coastal and Coronado Islands fishing information.
You get detailed coverage of Catalina Island and San Clemente Island springtime and winter white seabass and yellowtail fishing too!
Latest Free Fishing Summary
December 20, 2020 - Sunday, December 20, 2020 at 7:50 PM
If anyone is looking for a Holiday Season gift idea, I can prepare gift certificates for 976Bite.com subscriptions.  You can give the certificate and the recipient can activate it at any time.  The available time periods are 1 year for $155.00, 6 months for $125.00 or 3 months for $99.00.   I can do this at any time of year, so you might keep it in mind for a gift giving idea at other times of year as well.  You can give me a call at (619) 226-8218 to discuss details….Thanks!
Happy Holidays and Merry Christmas!