Share your Catch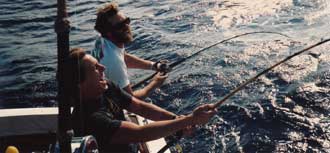 We want to hear about your fishing trip and see your catch. Send us an email of where you went, what bait/lures worked, sea conditions and of course, the fish you caught!
Email us at Bob976bite@aol.com to send us your report and/or pictures now (please, .gif & .jpg formats only)! You can also telephone in your reports to:
(619) 226-8218
We have the scoop!
976-BITE specializes in providing the latest Southern California offshore fish reports as well as San Diego County coastal and Coronado Islands fishing information.
You get detailed coverage of Catalina Island and San Clemente Island springtime and winter white seabass and yellowtail fishing too!
Latest Free Fishing Summary
May 6, 2022 - Southwestern Yacht Club's 52nd Annual Bottom Fishing Tournament is on May 7, 2022!
Southwestern Yacht Club's 52nd Annual Bottom Fishing Tournament to Benefit ElderHelp of San Diego is this Saturday, May 7, 2022 and you are invited to participate!
Southwestern Yacht Club's Bottom Fishing Tournament is open to the public and benefits the ElderHelp Charity in San Diego.  It is a first class event in every respect and included in the $75 per angler entry fee is a complimentary breakfast and a ticket to the Awards Banquet and Ceremony at Southwestern Yacht Club where they will be serving their "World Famous Fish Taco Dinner."  The entry for Juniors 16 years of age and …Continue Reading